This year was a big turning point for me professionally. I've worked hard over the past 5 years to turn a hobby blog into one that generates enough income to make me not feel guilty about working on it. 😉 It's a dream come true to create content, craft, write, cook, travel, photograph, and decorate– and be able to share it here, as my job! That being said, it is hard work. There's been many sacrifices (I don't think I've sat down to watch tv without a laptop in hand since 2009, and I'm often up working until 1AM and every spare moment when my kids are at school), but it's a job I feel incredibly blessed to be able to enjoy on a daily basis.
At some point in almost any business you need to spend money to make money. So if you're a blogger, or love a blogger, or cohabitate with a blogger, or a blogger sends you this post with a note that says HINT HINT, then this gift guide is for you!
1. A great camera. If you do any type of photography for your blog, it's time to graduate to a DSLR if you haven't already. Yes, there's a learning curve but the outcome will be SO worth it! In this day and age we're competing with magazines and Pinterest-worthy images, so having a DSLR is a way to get your foot in the door. I personally have a Nikon D3000— there are newer versions out now, but the D3000 was a great beginner model when I got it 5 years ago. (hmmm, time for an upgrade?!) (wink!) My favorite (new) lens is the Tamron AF 28-75mm F/2.8 MACRO. This is an extremely versatile autofocus lens that gives great tight shots as well as portraits. Love working with my Tamron lens!
2. A tripod will be your camera's new BFF. A great camera isn't worth much if your photos turn out fuzzy due to low lighting or other issues. Having a tripod is a MUST for bloggers who take photos of crafts, decor, food, fashion– basically, anything Pinterest worthy. I currently have a cheap tripod, but am upgrading this year to the AmazonBasics Pistol Grip that came highly recommended. I know I'll use it MUCH more with that easy-to-use grip, because fussing with all those wheels and adjustments on my current cheap-o tripod is driving me batty.
3. Get 'er done, wirelessly.  Speaking of photos, I upload hundreds a day. But I never have to plug my camera into my computer, because I have an Eye-Fi card! This little guy has saved me dozens of hours by wirelessly uploading my pics to my laptop any time I turn it on in my house. I simply snap my photos and by the time I get to my laptop most of them are already there. HUGE HUGE HUGE timesaver!
4.  Go back to school. Last photo thing, I swear! But now that you have your fancy DSLR, you need to know how to use it. I highly recommend the Shoot Fly Shoot classes. They're easy to watch videos that finally explain all the bells and whistles on your DSLR. Don't fear the manual setting! PS: Cyber Monday only, all classes are 50% off!! Go get some!!! Click the photo below for more info: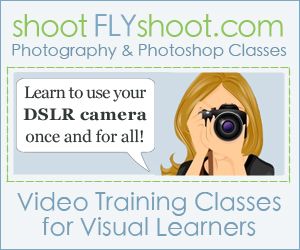 5. BACK THAT THING UP.
It's not a very sexy gift, but
a subscription to Carbonite
is a must when your entire life is online. Carbonite backs up my laptop daily, all by itself, so I can sleep easily while my files and photos are saved automatically.
6. Elite Blog Academy is a MUST for turning a hobby blog into a money-making one! Ruth Soukoup is a brilliant, successful blogger who has turned her blog into a huge money maker without selling out. She's able to blog about what she wants and her posts are so popular they generate huge amounts of income while she sleeps. She's coached several of my friends, and now has made her knowledge accessible for the rest of us by opening the Elite Blog Academy. I signed up immediately because even the few tips from Ruth that I've implemented have been MAJOR turning points in my blog game. The course is self-paced, and you work through the activities and implement them in your own time. There's also support in the form of forums, live chats, videos, and additional handouts from Ruth. Elite Blog Academy is opening up now for spring registration at the ONE TIME ONLY price of $299, which ends this week on December 5th. After that, it will NEVER be that price again. If you want to step up your blogging game, I'd highly recommend taking this course! I'll be starting on it hard core on January 1st, I hope you'll join me. If you have questions, let me know ASAP and I'll do my best to answer them.
7. Read it!
Two books on my wish-list are
Eat That Frog
(time management tips) and
Write Away
(about travel journaling/ writing). I'm constantly trying to grow as a write and optimize my time, and both books were recommended highly. Also, I'm brand new to the world of multi-level marketing– I just happened to love my
Young Living oils
, and next thing I knew friends were signing up under me creating a really sweet side income for me. Since I don't know much about the business but see big things in store, I've heard the books
Go Pro
and
Rock Your Network Marketing Business
are must-reads.
8. Portable phone charger. Want to be the most popular blogger at a conference? Walk around with a portable charger! Social media fiends like me are always draining phones on the road as we Instagram, check email, navigate with the GPS, and more. A portable charger really comes in handy; no more getting stranded in airports without a charged phone or in the middle of a conference session and unable to tweet!  <—— mild emergency, lol
There's way more on my wish list, like a video camera and audio lavalier set (any recommendations? I'm clueless about what to buy to get started with videos!) but I'm trying to keep it simple. If you're a blogger, I've found those 8 areas area truly worth the investment.  Learning, growing, sharpening your skills– all can lead to higher pageviews, viral content, and ultimately more money in your pocket to compensate you for all that hard work you put into your blog!
PS- Do you have a DSLR camera and don't know where to start? Here's my must-have accessories for your DSLR, plus my favorite inexpensive external flash!
PPS- Looking for more fabulous gift ideas for everyone on your list? Here you go!
Gift Guide: Great Gifts for Guys
Gift Guide: Perfect Picks for Kids
Gift Guide: Helpful Gifts for Bloggers and Mom-tographers
Now that you're wired up, charged, and full of blogging knowledge it's time to take your blog to the next level in 2015! What's your blogging goal, and your #1 tool to get there?