Kids' Craft Camp: Simple Stitch Cards for Kids
This post may contain affiliate links for your convenience. Read my full disclosure policy here.
What what! So happy to have Heather from The Sewing Loft sharing a brilliant kids' craft idea today: little stitch cards, perfect for long car trips and/or practicing fine motor skills. Take it away, Heather!
I am a huge fan of having small tricks up my sleeve for the kiddos and these little stitch cards are perfect for rainy days, long car rides or something fun to beat the "I'm Bored" blues.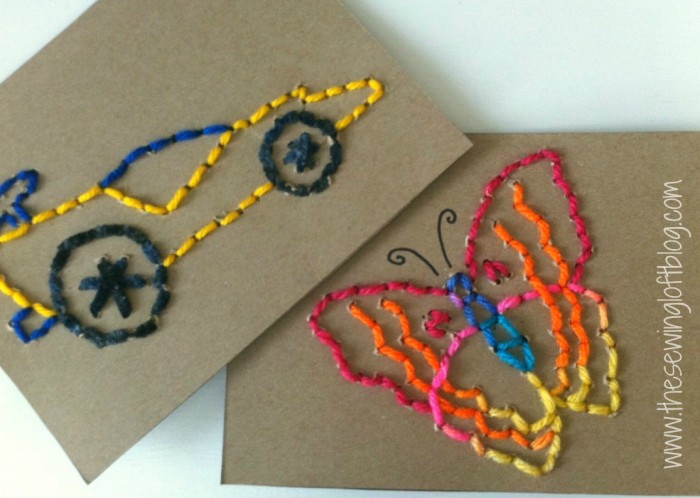 This project is for all levels.
Skill Level- 1 Button
Materials:
Tools:
embroidery needle
scissors
hammer & nail
Basic Instructions: Okay, so it may seem funny to see Hammer & Nail on the "tool" list but I promise, it is super easy!
After you polish off your cereal, open up the box and cut out cardboard to size. I suggest 5″ x 7″. It is easy to fill and can be placed in a frame to give to Grandma.
Draw a simple design on the card- or better yet, enlist the little ones.
Punch holes along the drawing with hammer & nail. I suggest about every 1/4″ to 3/8″. Think of connect the dots! *Tip- have something underneath it to protect your work surface. I just used an old cardboard box.
Now, pull out your colored yard and thread up your embroidery needle. (My girls are using a plastic one. It has a large eye for them to thread.)
Tie a knot at the end and start stitching from the back of the card.
These are perfect to have in your bag of tricks for an afternoon of fun.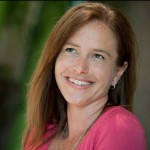 ABOUT THE AUTHOR:
Heather is the creative juice behind The Sewing Loft. She creates down-loadable
patterns
for stitchers of all levels. She is part of the creative team on
Cool2Craft TV
and her work has been featured in several magazines. For more easy sewing projects visit her on the
blog
or say hello on
Facebook
.